Best wishes to you all for this new year and decade!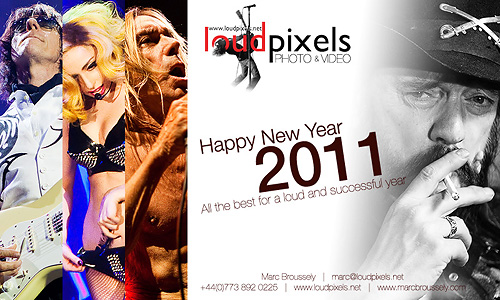 In the Loud Pixels news: a recoding of the site to incorporate all 4 sections of my work on a single landing page: Main photography – Video productions – Loud Pixels – Loud Pixels Live (videos). The video productions site is a brand new one, using the magic of Wordpress, it now includes all my video work, including interviews (Lemmy, Tony Benn vs Nicky Wire, Hussein Chalayan, Needtobreathe), documentaries (The Like tour documentary – contact me for the password), Live videos (many bands!) and the Burning Head music video productions.
Talking about Burning Head, 2010 was a great year for us with 3 awards for our music video Tricil – The Emancipation, released on Clear Notice Records, which has also be voted #1 of the 100 best music videos of 2010 by MusicVideoJam. We're looking forward to working on new exciting videos in 2011 so spread the word!
In other news, Cancer Research UK will have their Sound & Vision charity event at Abbey Road Studios in February where they auction a series of music memorabilia and fine art prints to raise money for the charity. This year two of my prints will be put on auction there (Paul McCartney and Brian May). Last year this event had performances from the likes of Robert Plant and Paul Weller. Very excited about this.
As for the Live photography this year was a busy one as I shot 183 bands, that's one every 2 days on average! The Chronological archive gallery (in the menu) should now be up to date. Two of my shots (Vampire Weekend & a portrait of Mona) were published in the Guardian over Christmas. Latest were Interpol, Human League, Performance, Labrinth, Annie Mac, Roller Express and The Pogues.
Roll on 2011!