All Photographs on this website are the exclusive property of Marc Broussely, unless stated, and are protected under international copyright laws. Any photograph on this site must not be used in any form or altered in any way without prior permission. If you wish to use any of the photographs please contact me regarding permission and rates.
April 18th 2008
A bunch of amazing Swedes in black and white have been jumping around for an hour and a half last night at Brixton academy, give it up for The Hives!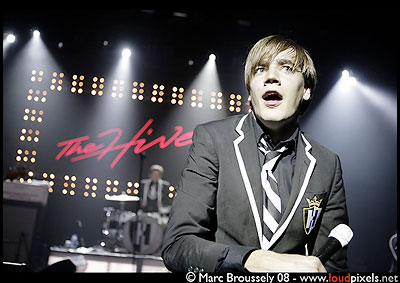 April 18th 2008
The Deal sisters in the indie cult band The Breeders at Koko...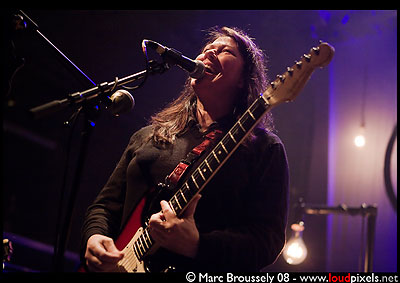 ... supported by Jim Noir from Manchester.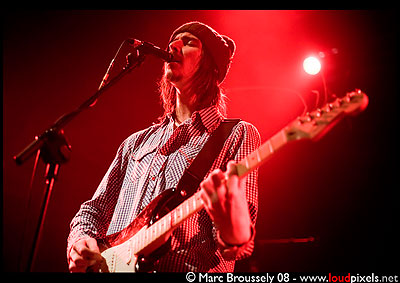 April 17th 2008
Catherine Ringer was supported by London pop artist (and DJ) Bishi.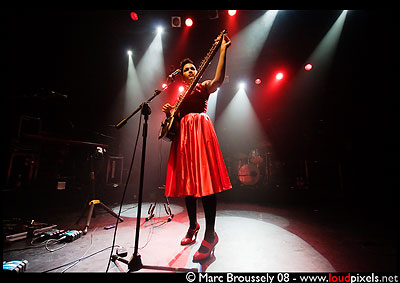 April 16th 2008
A great French artist played Koko last night: Catherine Ringer of Les Rita Mitsouko.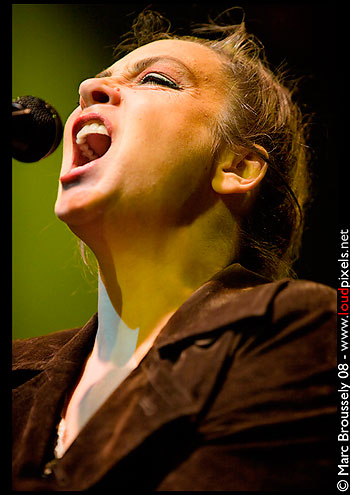 April 13th 2008
Two recent sets with The Wombats at Shepherds Bush Empire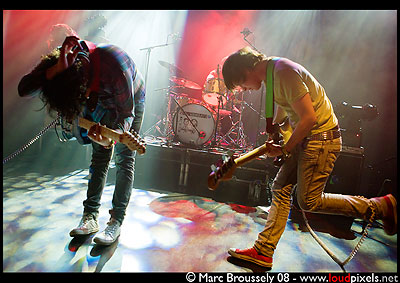 and Tiger Army at the London Astoria 2.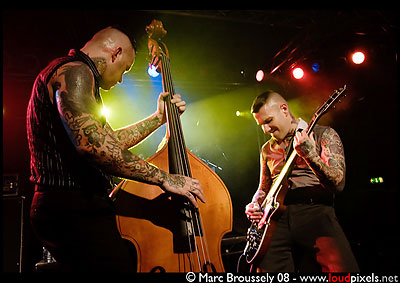 And the cover of last month's Artrocker magazine.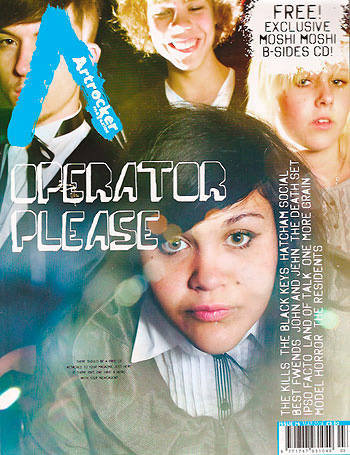 April 5th 2008
It's been a while since last update. I was away backpacking in India for a few weeks, here are a few non-music related images I brought back with me.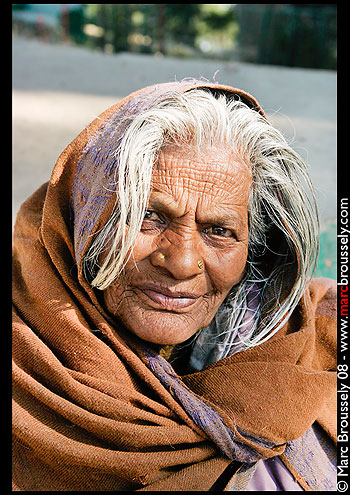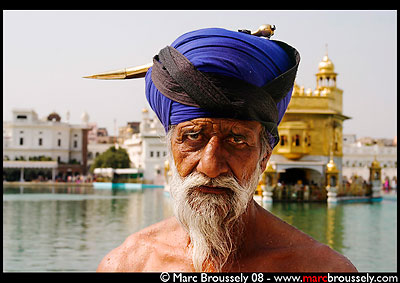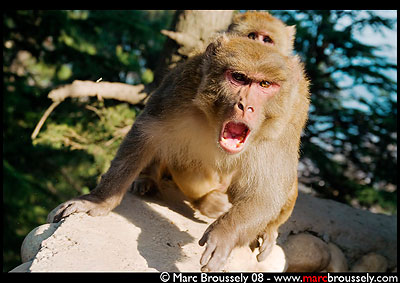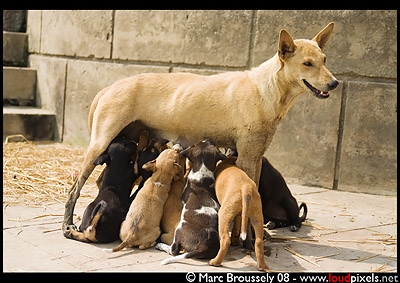 February 20th 2008
This week a photoshoot with Operator Please, check out the next Artrocker magazine!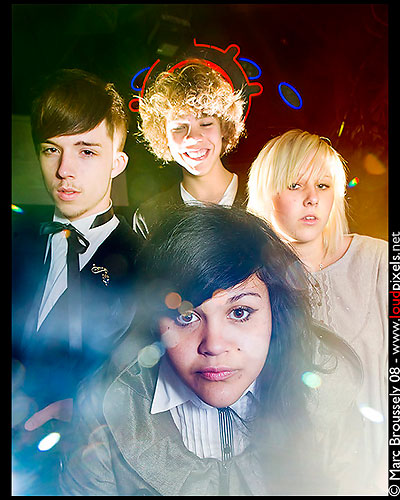 Also this week Sons And Daughters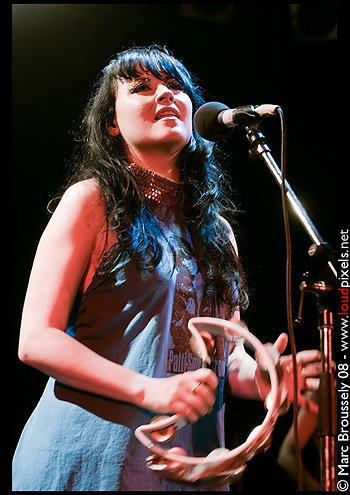 supported by Black Kids.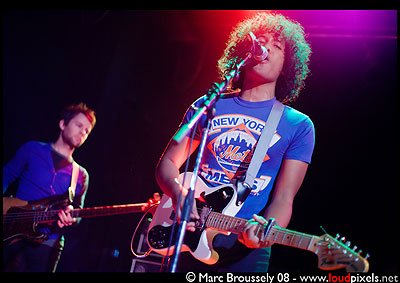 And a set from last month with The Texas Chainsaw Orchestra at the ever more popular club Gipsy Hotel at Bardens Boudoir.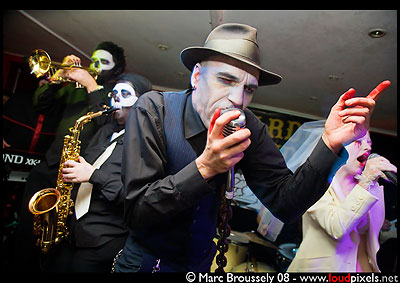 February 12th 2008
First set from a busy week, the mighty Queens Of The Stone Age Monday at Hammersmith Apollo.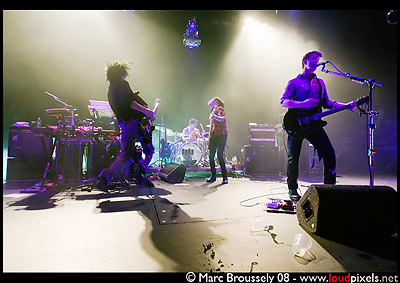 January 25th 2008
A bit louder with KoRn at Brixton Academy and Jonathan Davies' mike stand by H R Giger.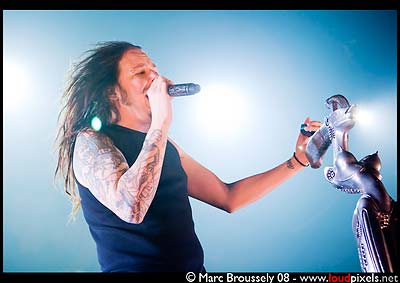 January 17th 2008
We start the year with a press photoshoot with Sons And Daughters, I'll probably post more images from this shoot soon,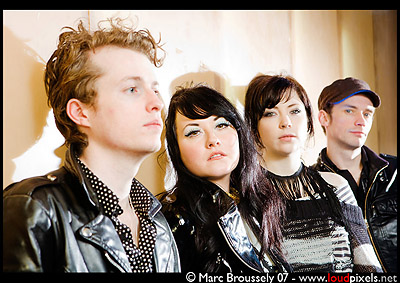 and the Pet Shop Boys performing their soundtrack to Eisentein's 1925 legendary movie Battleship Potemkin, at the Barbican.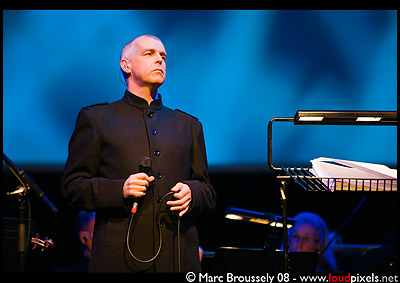 January 2008!
Happy 2008, before starting posting the new shots I'll try to post a few sets from 2007 that I didn't have time to put online. I start with The Damned at the London Forum, for the Texas Chainsaw Travelling Horror Picture Show.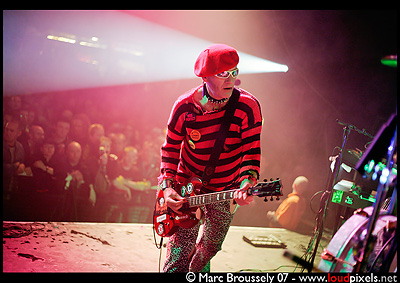 followed by The Chemical Brothers at Brixton Academy,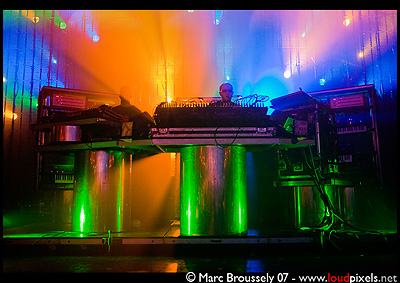 a promo shoot with Fire Fall Down,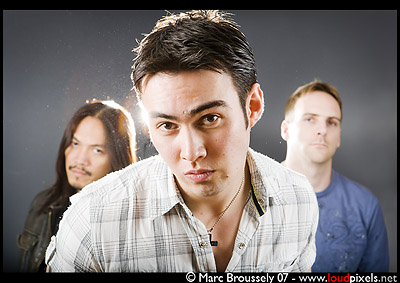 a rather dark gig of The Horrors at Brixton Academy supporting The Jesus And Mary Chain,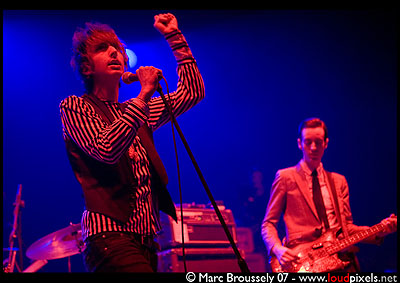 press photos for Wajid Yaseen's Ear Cinema, a performance of sights and sounds at ICA.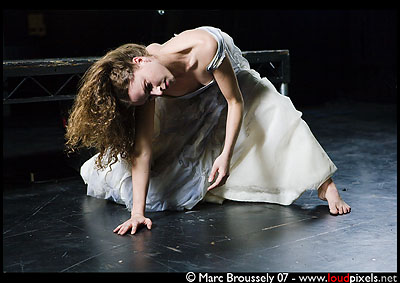 December 19th 2007
Original members of The Jam Bruce Foxton and Rick Buckler performing the Jam's greatest hits under the name From The Jam at the London Forum, the crowd was genuine as well.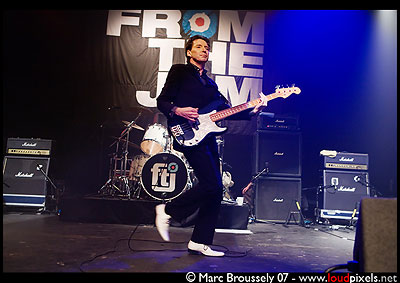 December 12th 2007
Him at the London Astoria.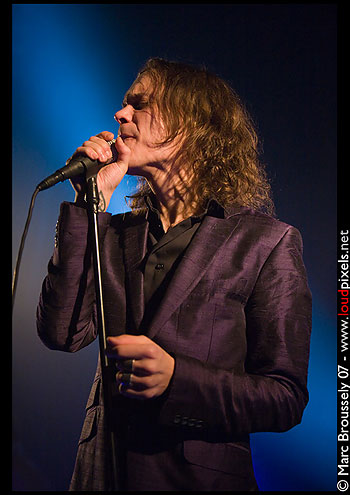 November 30th 2007
Great performance from Queenadreena at the London Forum for the Texas Chainsaw Travelling Horror Picture Show.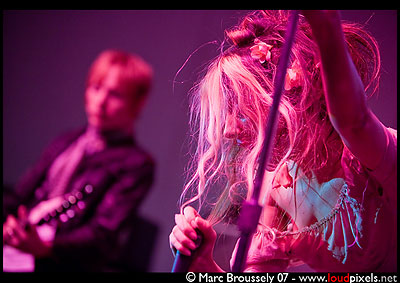 November 19th 2007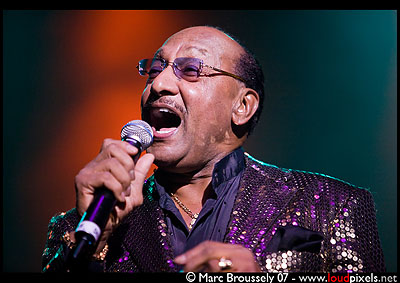 .. and The Temptations at the Royal Albert Hall.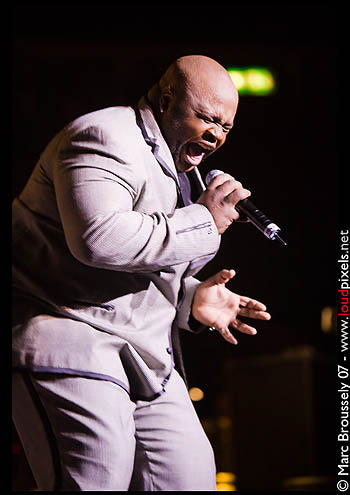 November 16th 2007
It is still time to get your tickets for the Texas Chainsaw Travelling Horror Picture Show at the Forum on Friday the 30th of November, featuring The Damned, The Urban Voodoo Machine, Texas Chainsaw of course but also the amazing Queenadreena (but shhh it's a secret ;) ). Check out on the links page for a trailer!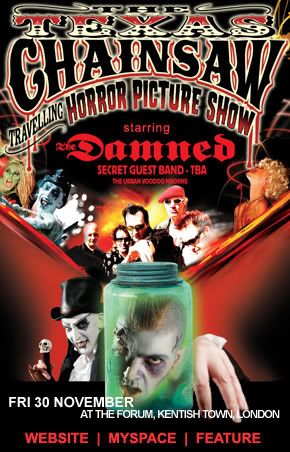 November 7th 2007
Classical music composer Ludovico Einaudi at the Royal Albert Hall.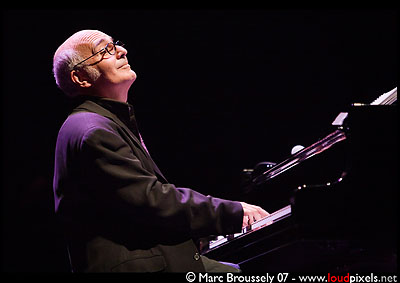 November 1st 2007
Great show from Against Me at Camden's Electric Ballroom...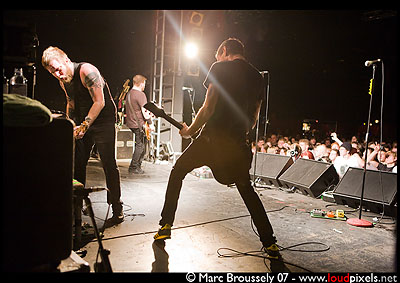 ... supported by a powerful performance of ex mclusky & ex-Jarcrew: Future Of The Left.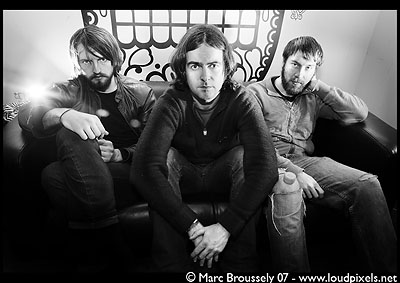 October 29th 2007
A farewell world tour to celebrate a huge career with Nana Mouskouri in the superb Royal Albert Hall.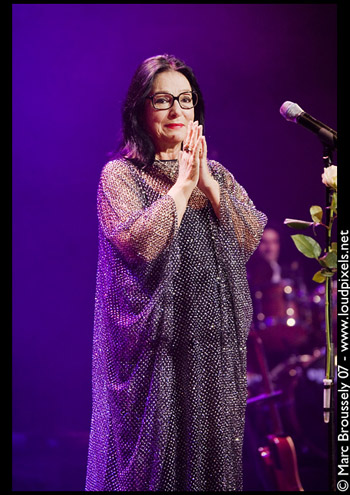 October 26th 2007
A few images of The Duel playing at Purple Turtle.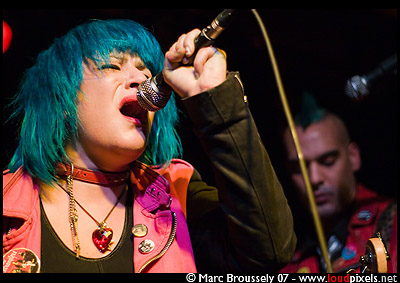 October 20th 2007
For my 300th Loud Pixels' gallery: a great show by Siouxsie Sioux at London Astoria 2.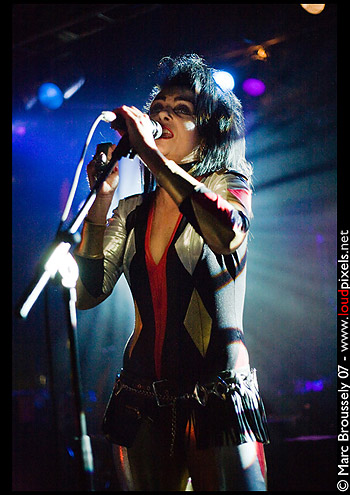 October 16th 2007
They influenced most of the hardcore scene, banned in DC twenty five years ago and still touring: Bad Brains at the London Astoria.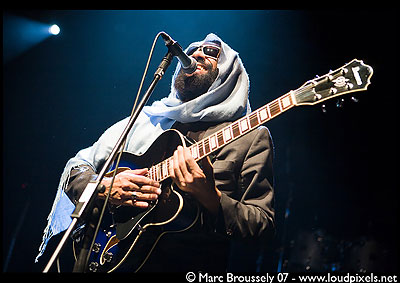 October 10th 2007
A 'Don't look Back' ATP concert of Cowboy Junkies at Royal Albert Hall, featuring Ryan Adams and Thea Gilmore.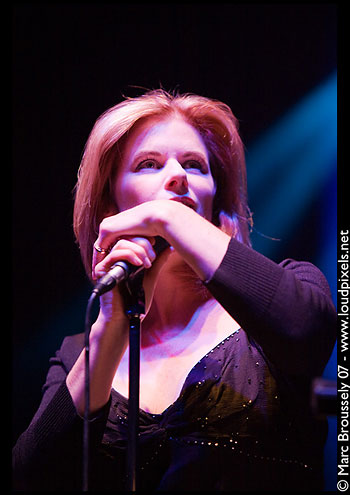 October 4th 2007
Some press call photos with 80's pop stars Bananarama, Paul Young, Rick Astley, ABC, Cutting Crew, Curiosity Killed The Cat and Johnny Hates Jazz, full line-up of next year's Here and Now 2008.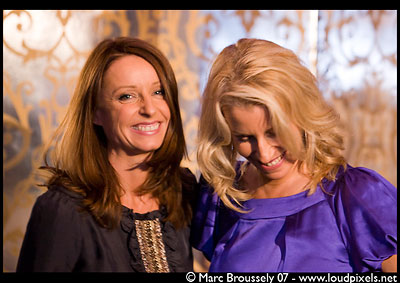 October 3rd 2007
More promotional photos with Dave Vanian and Captain Sensible of The Damned.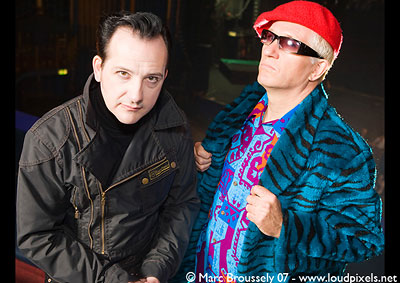 October 3rd 2007
Passers by were wondering what was going on for that shoot with the Texas Chainsaw Traveling Horror Picture Show crew (Dr. Marcusi, Vivid Angel, Roxy Velvet and other sexy demons) and members of The Damned to promote the next big show at the Forum on November 30th, it is going to be a night to remember!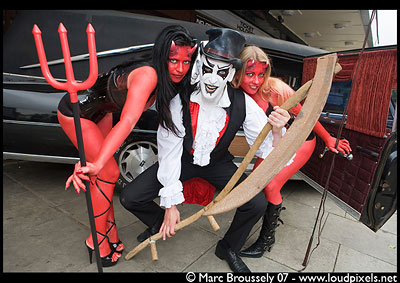 October 2nd 2007
Great sold out show for Manu Chao, first of 3 dates at Brixton Academy, the crowd enjoyed a lot, I did too as a vieux fan de la Mano Negra!.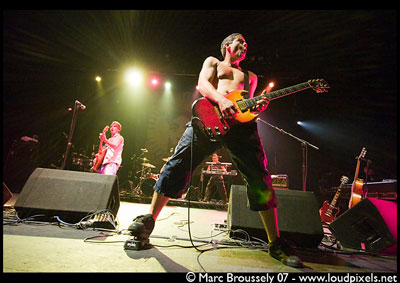 September 26th 2007
In a very different type of sound, Gardar Thor Cortes, the Icelandic Tenor, singing with the National Symphonic Orchestra conducted by Gardar Cortes, his father, and with Diddu.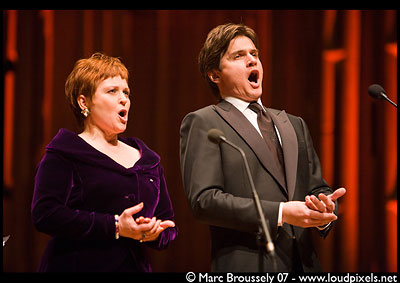 September 23rd 2007
In the 'shooting my favourite bands' chapter here is one of the best ever: No Means No.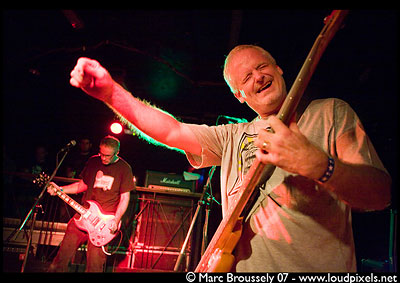 September 14th 2007
Late update again with in no particular order Sonic Youth who performed their cult album daydream nation, The Jesus and mary Chain at Brixton Academy supported by Evan Dando and The Horrors (set to come), Skinny Puppy at the Astoria, Justice at Koko, The Future of Left, Untitled Music Project and The Victorian English Gentlemen's Club at White Heat as well as Barbra Streisand at the O2 Arena and Smokey Robinson.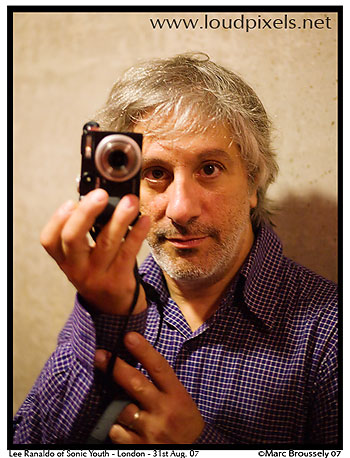 June 27th 2007
That will teach me to not update regularly enough. And I thought last update was big but look at this month's one featuring The Rolling Stones and Muse at the Isle of Wight festival, Muse again at Wembley stadium and Iggy Pop and the Stooges at Jarvis Cocker's Meltdown at the Royal Festival Hall. See also Motley Crue at Hammersmith Apollo supported by Papa Roach, Scout Niblett at RFH supporting Iggy Pop, The Maccabees for a very hot live in tiny Old Blue Last preceded by a vertiginous photoshoot on the roof, Blonde Redhead at Koko, and all the bands playing the Isle of Wight Festival 2007: Groove Armada, Snow Patrol, Amy Winehouse, Arno Carstens, Ash, Carbon Silicon, Country Joe McDonald, Donovan, The Fratellis, James Morrison, Kasabian, Keane, Melanie C, Paolo Nutini, The Hedrons, The Thirst and Wolfmother.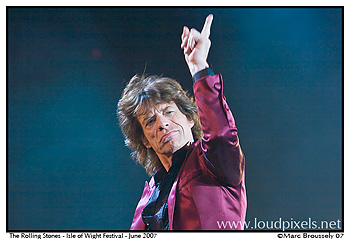 May 28th 2007
Huuuge update today, got too busy to update lately, now here is loads of links to click on: Motorama and Venom Seeds at Dirty Water Club, Atomic Suplex at Bardens, Dolls House at Bar Monsta, the amazing Punish Yourself at the Texas Chainsaw Birthday Ball, a band to watch: Cut Off Your Hands from New Zealand to the Barfly and around for some PR shots, Fortune Drive and Murder By Death at the Bush Hall, Arctic Monkeys at the Astoria, some more PR shots with Serpico, Tilly And The Wall at Astoria, a tribute gig for Syd Barrett, Madcap's last laugh, at Barbican, featuring lots of guests, and Shellac at Koko, who were the very first band featured on Loud Pixels, for the best gig I've seen this year, so far, these guys are absolutely great.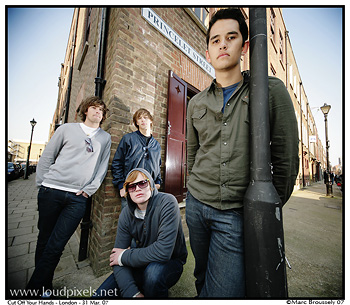 March 16th 2007
First update this year, too many things going on and I let down this blog for a while but news new sets should be put regularly again. We start the year with some soul legends at Barbican, Brand New Heavies with some guests, Supersuckers setting The Underworld on fire and the Buena Vista Social Club at Hammersmith Apollo. Enjoy.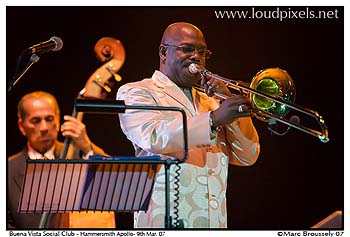 December 8th 2006
Another month again, catching up with some sets from a month or two ago with Uniform performing at Guerilla Zoo, Corsica Studios. A brand new set of the excellent roch'n'roll combo Blood Safari at the Dirty Water Club, a show from The Flaming Lips I won't soon forget, Richard Hawley at Shepherds Bush Empire as well as the reunited original line-up of Asia at the Empire as well. Happy Xmas & New Year as I suspect the next update will be dated 2007.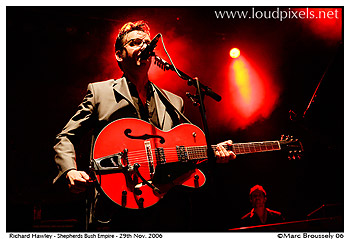 November 8th 2006
It's been a monthly update lately. Here are this month's goodies (although there are still some unedited sets waiting): the Dirty Water Club's best rock'n'roll godfathers, who inspired so many rock bands around the world were giving an exceptional show at the Dome : check out The Monks!. Micah P Hinson at ULU supported by Viking Moses, some more grandfathers of rawck with The Stranglers in Shepherds Bush Empire. Check out also The Kooks at the Astoria and The Arab Strap at Scala.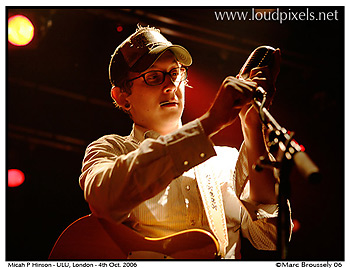 October 6th 2006
A month without update means a big update, here we go with a big band in a tiny venue, The Eighties Matchbox B-Line Disaster at the Buffalo Bar. Then loveisall at King's College, Matmos and Zeena Parkins at Koko, My Morning Jacket at the Astoria, Peter Bjorn and John at Dingwalls, Little Man Tate at King's College and The Storys at Shepherds Bush Empire.
Have fun!!
And while I'm there, here is a good way to spend Halloween this year: The Blood Ball!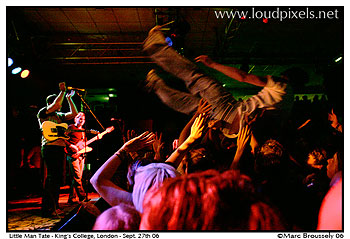 September 8th 2006
Huuuuuuuuge update today, my keyboard hurts, and my eyes as well. Highlight of the summer update here is the Texas Chainsaw Travelling Horror Picture Show with a gallery of all the freaks involved as well as a collection of shots from this sleazy Live Show. Bands playing at the show in good company of Texas Chainsaw were MAB and The Priscillas, all taking place at the Dome in north London.
This said, check out the galleries of multiple bands captured at:
- V festival: Suicide Sports Club, Dub Pistols and Hyper featuring Leeroy.
- Get Loaded In The Park: Babyshambles, The Buzzcocks, Lily Allen, Graham Coxon, Badly Drawn Boy, De La Soul, Guillemots, Adamski, The Young Knives, The Boy Least Likely To, The Cuban Brothers, The Pipettes, Goldie playing in front of an happy crowd
- Last but not least the fantaaaaastic Steranko being disorderly at Guerilla zoo along with The Mighty Roars.
Enjoy!!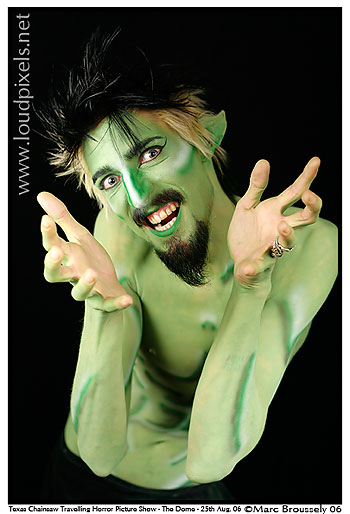 July 28th 2006
The update continues with some shows from last month, some more Kiwis with Shihad selling out the Shepherds Bush Empire twice, An Albatross screaming Upstairs at the Garage until our hears started bleeding, as well as a few shots from Ladyfuzz at the Barfly, enjoy!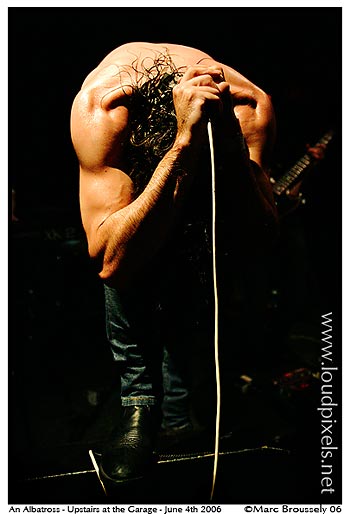 July 27th 2006
Time for updating with some images that have been waiting a bit, starting with the crazy Datsuns.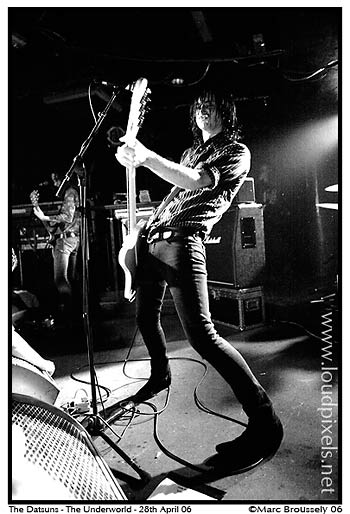 June 16th 2006
A rocking update with some colourfull psychobilly, it's the Klub at the Garage presenting this time King Kurt, Evil Devil and Manor Freaks.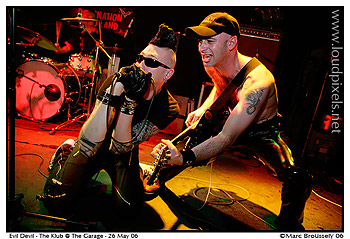 June 2nd 2006
hmmm I definitely have lots more pics to work on and they will soon appear in here but for the time being enjoy the best boat freak show with the large set from last Kashpoint party Sunday night on HMS President.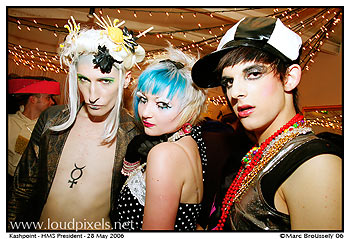 May 19th 2006
Some more non live shots were added today in the "Other Shoots" gallery, check out Towers of London for an Artrocker magazine feature and Thee Exit Wounds promo shoot. That's all for today, a few live sets coming up soon.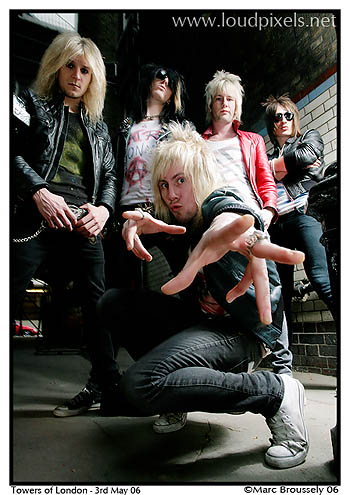 May 3rd 2006
A few sets from the Camden Crawl 2006 with Dogs, The Futureheads, Louie and V//Formation.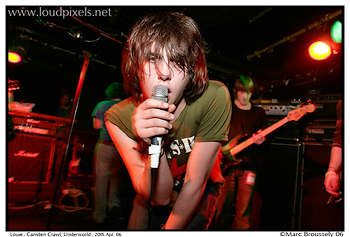 April 27th 2006
Two sets newly uploaded, Client at Madame Jojo's on April 13th and Demented Are Go at the Underworld. Soon to come are The Bones, Mechanical Cabaret as well as bands from the Camden Crawl 2006 featuring Louie, Dogs, The Futureheads, Klaxons and V//Formation.
A new feature was added: a selection of pictures can be directly ordered as print by just clicking a button under their thumbnail. As before, if you want a print of an image that doesn't have the print button just drop me an email and the print button will appear ASAP.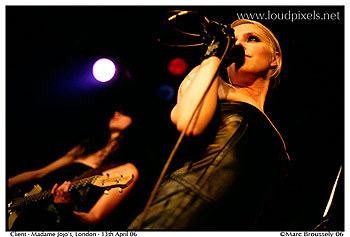 April 7th 2006
Some new sets with a colorful series of Venom Seeds playing at Catch 22, TriaX a.k.a DJ Matt Noise at Slimelight, Stoke Newington's best kept secret Monkey Island and the crazy Spaniards Senor No at Corn Rocket Club in Shoreditch.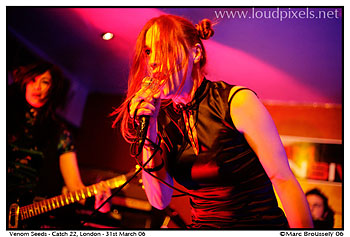 April 3rd 2006
Quick update today with some more rock'n'roll, Nashville Pussy at the Garage last Saturday. Still have to upload more pics from more shows, shouldn't take too long.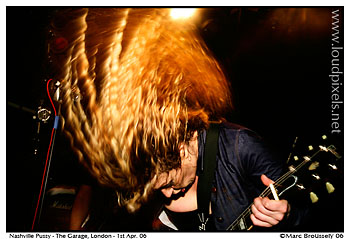 March 31st 2006
A zombie update today with photos of performers at the Texas Chainsaw Travelling Horror Picture Show that took place at the Dome on Friday 24th. A few more images of the show will be up soon.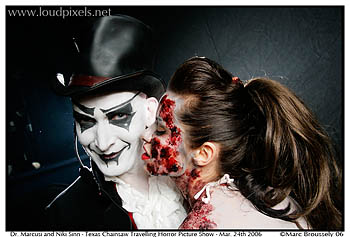 March 2nd 2006
A quick update today with the live performance of RiXes! at the scene Bastille in Paris as well as a promo photo of the same band in the promo section. In that "other shoots " section as well you'll find a third flyer image for the All You Can Eat clubnight as well as the rock'n'roll band Lucifer Star Machine promo shoot and another set from a film shoot of Texas Chainsaw Travelling Horror Picture Show with vampire hookers!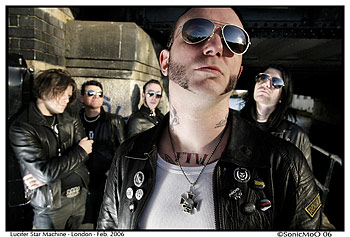 February 10th 2006
I eventually upgraded my webspace as it was getting quite tight in here, note the www.loudpixels.net (.co.uk stays active though). Anyway here are a few new sets with The Rakes at the Astoria followed by Wrong Animal where Miss Bee and her crew shouted loud at the Buffalo Bar. Buffalo Bar again here with The Gossip. Some new "non-live" shots as well with a new set of Tigermoth, a promo shoot for Uniform for the release of their second album, some stills from a film shoot for the Texas Chainsaw Travelling Horror Picture Show as well as a new flyer for the All You Can Eat clubnight. Added as well is a set of the Urban Voodoo Machine who gave an excellent gig at the Spitz last December.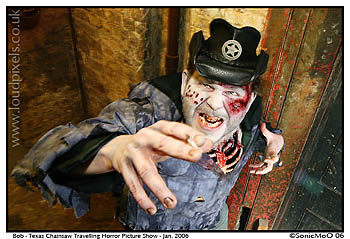 January 26th 2006
A few updates again with Kaito live at the Buffalo Bar for Artrocker magazine's first anniversary as well as a coouple of promo shots of Kaito and Damn Arms. Also up today are the promotional pics for Wrong Animal!
A new button appeared on the menu: you can now very easily order prints of my images through my Photobox gallery!! Only a few pics are available at the moment but just let me know which picture you want and I will add it straight away!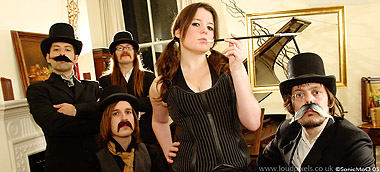 January 20th 2006
I still have a few sets that need to be uploaded but for today here are the Venom Seeds with Riotmiloo going crazy at 93 Feet East. And talking about "crazy" here are a bunch of crazy people having fun at the first All You Can Eat club night at Arts in Soho last Thursday.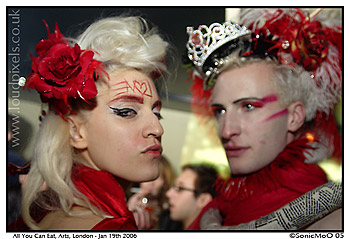 January 6th 2006
Happy 2006 loud people! Waw, been ages I haven't updated, things have been quite hectic lately including (but not only) all my external hard drives crashing simultaneously. Anyway I come back with some goodies shot in December: Turbonegro trashing the stage of Koko, supported by Juliette and the Licks, the Towers of London being wild at 333 with support from Cantankerous and Eva3 and Riotmiloo being very loud at Slimelight at the Electrowerks supporting Pneumatic Detach. A new picture in the "Other Shoots" section as well with models Naomi and Chris posing for the "All You Can Eat" clubnight flyer.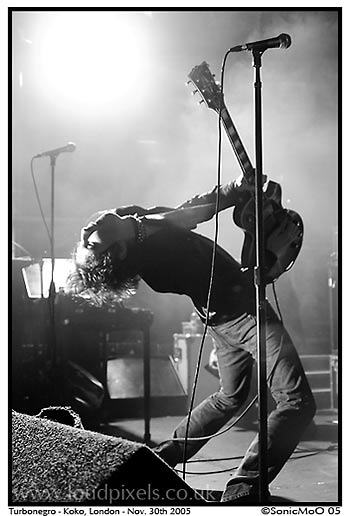 November 25th 2005
Two new sets today, Kristin Hersh performing acoustic songs of her former band Throwing Muses at Scala for the 25th anniversary of label 4AD, and a few pics of Motorhead at Brixton Academy, although too bad they played so far from the edge of the stage, didnt have the ideal lenses...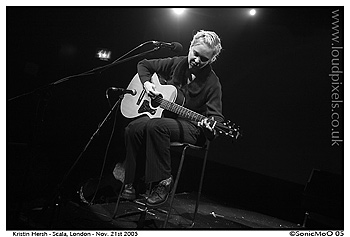 November 17th 2005
Lots of sets uploaded today with Harrisons and Larrikin Love as well as i Forward Russia ! and The Suffrajets at London Barfly as well as the 30th Anniversary of Sex Pistols' first gig at Central St Martins College of Art and Design with performances of Battant, Comanechi and The Paddingtons joined on stage by Glen Matlock himslef. Also up today the set of the crazy Melt Banana at The Garage!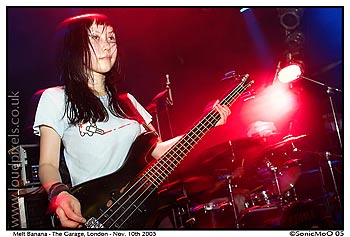 November 13th 2005
The rest of the pics from the Venom Seeds shows in Italy is now online with Venom Seeds playing at Blaster in Monsano, Dadamatto who supported Venom Seeds at Thermos in Ancona and a big series of not so random people and thanx again to the Ancona / Lush Rimbaud team!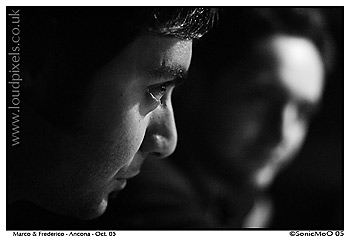 November 9th 2005
The Italy trip with Venom Seeds was excellent (apart for that annoying cold I'm still struggling with...) thanks to all the Ancona team, Lush Rimbaud etc.! Some pics are already online with the Venom Seeds gig at Thermos, more from this trip will come soon. Before that was the 3 Ant Riot gig at the Dublin Castle. Newly online as well are a short set from The Fall at Islington Academy and two new pages in the non-live "Other Shoots section, venom seeds and Glen Matlock with The Paddingtons taken at the 30th anniversary of the Sex Pistols' first ever gig, at the Central St Martins School of Art and Design on Charing Cross Rd. Some more pics from that party will be online soon.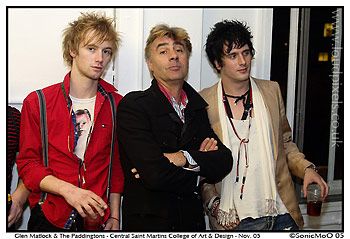 October 26th 2005
New set today with the excellent Robocop Kraus from Germany playing Artrocker club at Buffalo Bar, these guys really rule.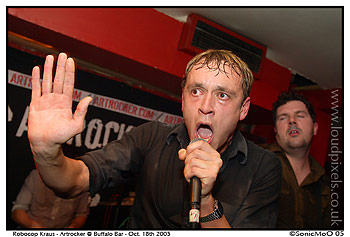 October 22nd 2005
A few updates again with Leech Woman at the Garage supporting Ultra Violence and the very noisy Hecate who started a sound riot at Sick & Twisted Upstairs at the Garage last Friday.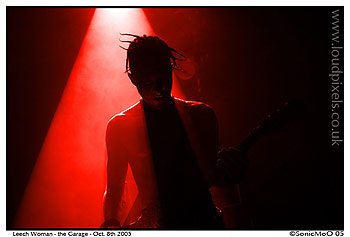 October 21st 2005
Last added tonight a new section for promo / backstage shoots as well as Alec Empire at Islington Academy.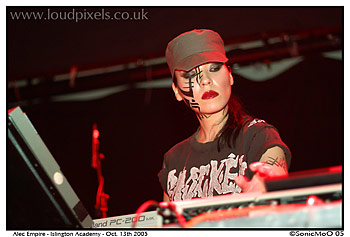 October 17th 2005
A bit special this new update as it is the huge set of pics taken at the Kashpoint 3 Clubnight at Koko last Saturday. I should warn: a bit of partial nudity here and there... and craziness everywhere.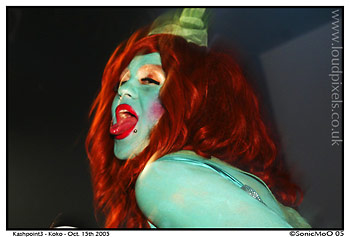 October 14th 2005
A new update already with Blood Red Shoes and Tiger Force at Artrocker club @ Buffalo Bar, Longview at Koko and the very sexy Soho Dolls who played the Garage last week.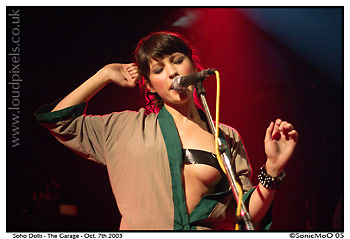 October 13th 2005
It's getting busy out there! a provisionnal update with, today, October File and Anti Nowhere League at the Underworld, Mohair from last month's Stylish Riots. As well as a new Venom Seeds set taken at Artrocker club @ Buffalo Bar, enjoy!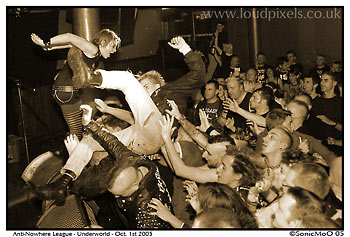 October 2nd 2005
New stuff tonight with Oceansize, Dogs at Stylish Riots and The Undertones! SOme more soon with Mohair, October File and Anti-Nowhere League who punked at the Underworld Saturday.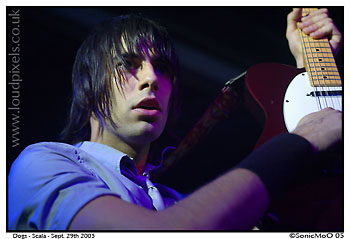 September 24th 2005
Update tonight with plenty of goodness from Mindless Self Indulgence, Mew, Motion City Soundtrack, the last ever gig in London for Million Dead supported by the shouting Gay For Johnny Depp and finnally the up and coming and talented New Young Pony Club.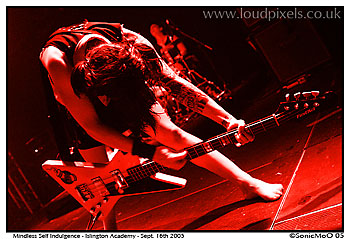 September 16th 2005
I (last but not least) finally added a BAND INDEX to the site, find the shots of your favourite band in a second!
The shots from the Artrocker gig at the Garage Monday are online with Ex Models, Test-Icicles and Black Wire.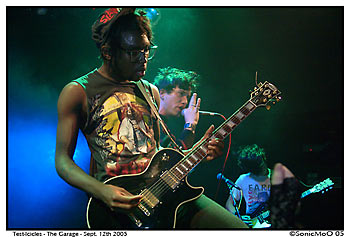 September 10th 2005
Update today with the Queens of Noize launch party Friday night at 333 featuring Revl9n, Lady Sovereign and Black Wire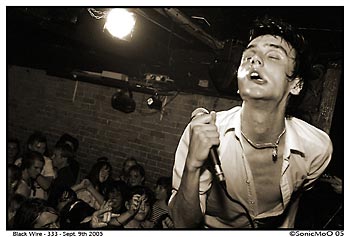 September 1st 2005
A huge update is done today as most of the pics that were waiting are now online, that is:
The Stoke Newington Fringe Festival with Skull Disko, Black Time, The Chinese Lungs, Blood Safari, Morning Bride, Monkey Island and the crazy Venom Seeds.
Following these are The Bravery who played at a Queens of Noise night in Hoxton supported by Twisted Charm.
Last are Bloc Party at Islington Academy. Hell, I need a few drinks now...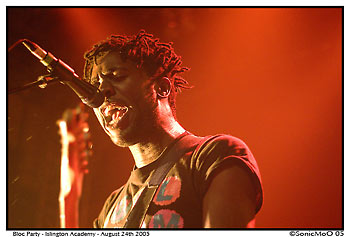 August 31st 2005
Back to normal: didn't have internet for a long while due to moving home and the ISP not being very efficient in the process... You only realise how badly web addict you are when you loose your connection... Added today are Yeti And New Rhodes from the Stylish Riots gig at Koko on August 4th, supporting Art Brut.
And more shots with The Ordinary Boys at Islington Academy August 9th as well as MZ Fontaine and QBoy and Scream Club at Club Motherfucker Upstairs at The Garage Saturday Aug 13th.
More to come very soon with shots from Stoke Newington Fringe Festival, The Bravery, Bloc Party...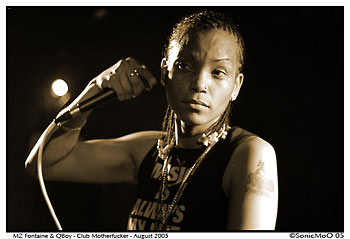 August 6th 2005
A little update with Art Brut who played at Stylish Riots last Thursday. Some pics of Yeti and New Rhodes on their way.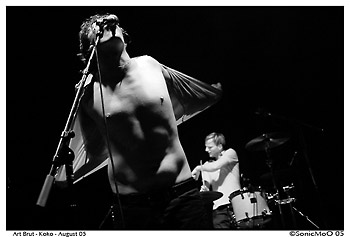 August 1st 2005
The rest of the FROG pics are online: Cazals and random people having fun.
Also up is the set of The Danger Glands who did some in-ya-face punk rock at the Diry Water Club Friday.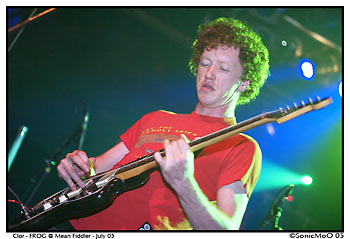 July 31st 2005
Some more pics uploaded today from Friday's Dirty Water Club rock'n'roll horror show with Zombina and the Skeletones. Some more pics of supports will be on in a few days.
The set of Clor playing last night at FROG, Mean Fiddler is already on as well, check it out. SOme more sets from this FROG to be added soon.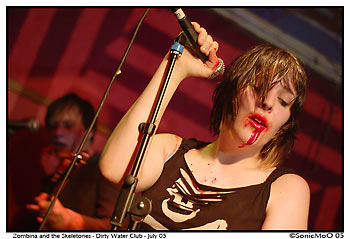 July 29th 2005
Great shows last night at Circus @ the Elbow Room with 10,000 Things, Cazals and The Holloways. I also added the shots from folksinger Michelle Shocked at Islington Academy as well as Metro Riots and The Dirty who played Artrocker Club Tuesday at Buffalo Bar. And some more goodness to be put online soon! All this isn't good for my liver though.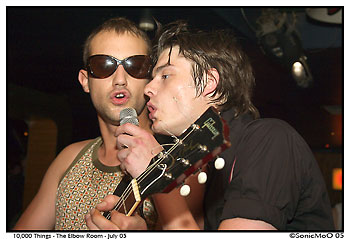 July 23rd 2005
I added the Lush Rimbaud pics taken at their gigs at the Ryan's bar in Stoke Newington when they played with Venom Seeds as well as the Shoreditch's Spreadeagle gig with Lush Rimbaud again supporting the full on Monkey Island who were definitely worth crossing the town to see, they rocked the place big time! Added as well some random pics from the Ryan's bar gig.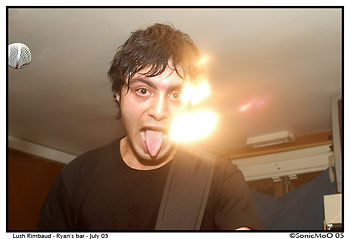 July 18th 2005
The Venom Seeds played last Thursday at the Ryan's Bar, a wild set with unexpected special guests storming the "stage". Pics of the supporting band Lush Rimbaud from Italy are soon to be added here, as well as some shots from another excellent gig friday with Monkey Island.
Last night the fanstastic Blood Safari (ex members of Penthouse and The Parkinsons) set fire to the Dublin Castle, check it out!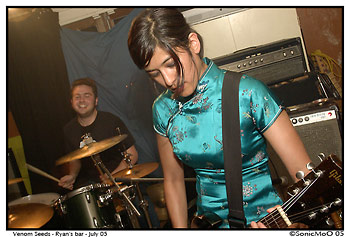 July 15th 2005
A new update already with The Dead 60's and Reel Big Fish shot mid June at the Islington Academy as well as Metro Riots shot at the Pleasure Unit, Bethnal Green.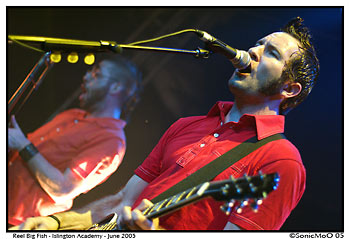 July 14th 2005
Hello ladies and gentlemen, I added a NEWS page to this site to inform about every latest update in the Gallery. I'll try and make a comprehensive band name list so you can find the pics of your favourite band much more easily. Latest entries were all the pics from the brilliant Noxious Art Festival which happened at the end of June in France near Vesoul.